Filter Press / Horizontal Belt Filter / Centrifuge / Vacuum Filter
Filter Press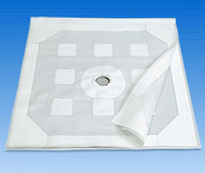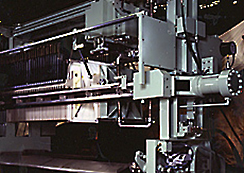 Filter Presses are used in various industries.
Our filtration cloth are specially made for applications such as compact manual type, large automatic type, compression type and filtration cloth traveling type.
G series
Nakao's Speciality! Our G-Series has Air Permeability below 0.3*, and is able to collect superfine particles by having a fine weave ( 1 denier) for micro-porous filtration.
* Air Permeability is cm3/cm2/sec at 125Pa .
NY-NK series
Fabric No. NY1250NK, NY1280NK, NY1230WK
Monofilament filtration cloth for outstanding cake release.
Uses: Gravel, Aggregate and wastewater treatment.
Water purification plant.
Horizontal Belt Filter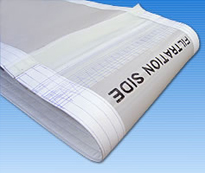 Amongst various types of vacuum filter for Liquid / Solid separation, there is great demand for the Horizontal Belt Filter.
Centrifuge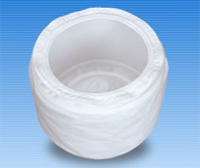 We provide strong and thick filtration cloth for use in centrifuge applications.
Our "G-series" is most suitable for fine particles filtration.
Vacuum Filter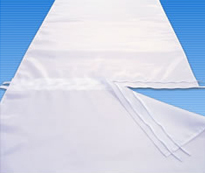 We provide filtration cloth for various types of Vacuum Filters, such as Drum Type Filter, Belt Type Filter, Disc Type Filter and Horizontal Belt Filter.